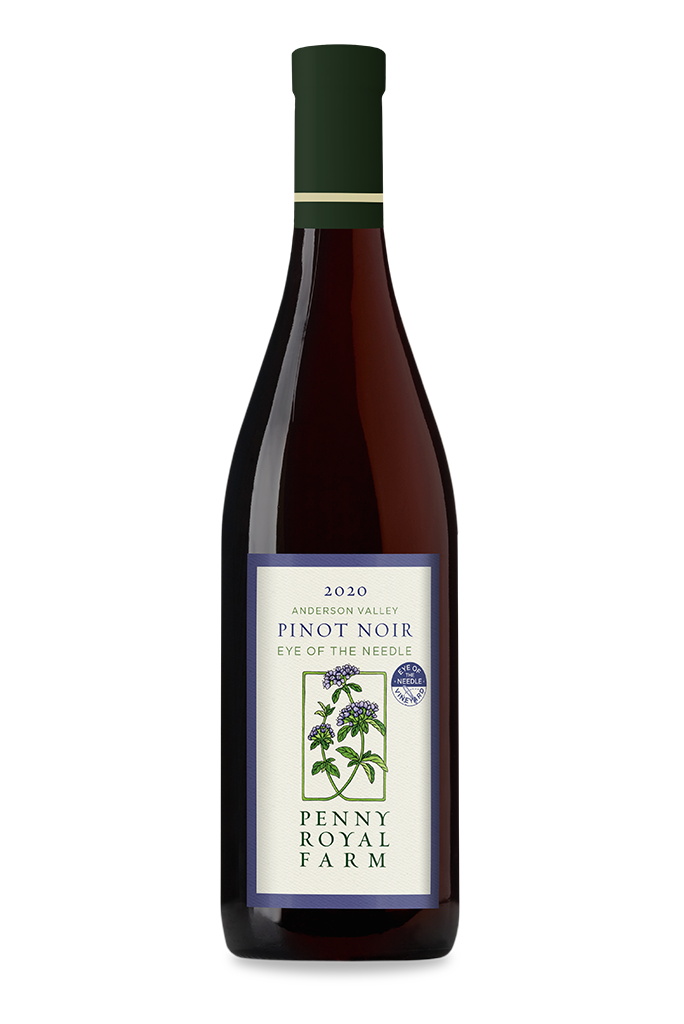 2020 Pinot Noir, Eye of the Needle Vineyard, Anderson Valley
LIMITED RELEASE
This limited-production wine is reserved for our Vine to Table members and we're allowing for a few cases to be purchased! Vine to Table members receive priority on all wine releases and bottle discounts. Join us and enjoy the perks!
Tasting back to the 2020 vintage, we are reminded of the trials and tribulations of drought, heatwaves, and neighboring wildfires on our vineyards – just like a body's development is written by its life's story, a vine's fruit also tells its history. Picked from the heart of our finest block of Clone 115, the resulting wine is reminiscent of a summer season with long days of picking and canning sun-ripened blackberries, weekend BBQs with rosemary-skewered meats, of coastal fog that didn't return some evenings, so we'd cool'n'comfort ourselves with caramel sundaes. Nostalgic sips aside, this satiny Pinot Noir wine is a testament to Anderson Valley's unique growing region with windy yet sheltered terrains – like the Eye of the Needle – and the soothing coastal influence that has been fruit-saving as well as history-making for us vintners.
DETAILS
750 ml
100% Estate Grown Pinot Noir, Clone 115 (100%)
Aged 18 mos in 60 gal French Oak Barrels
Cheese Pairing: Velvet Sister
Case Production: 175
Alcohol: 13.9%
TA: 5.8
pH: 3.74
Recent Awards: 2023 Press Democrat North Coast Wine Challenge, Double Gold