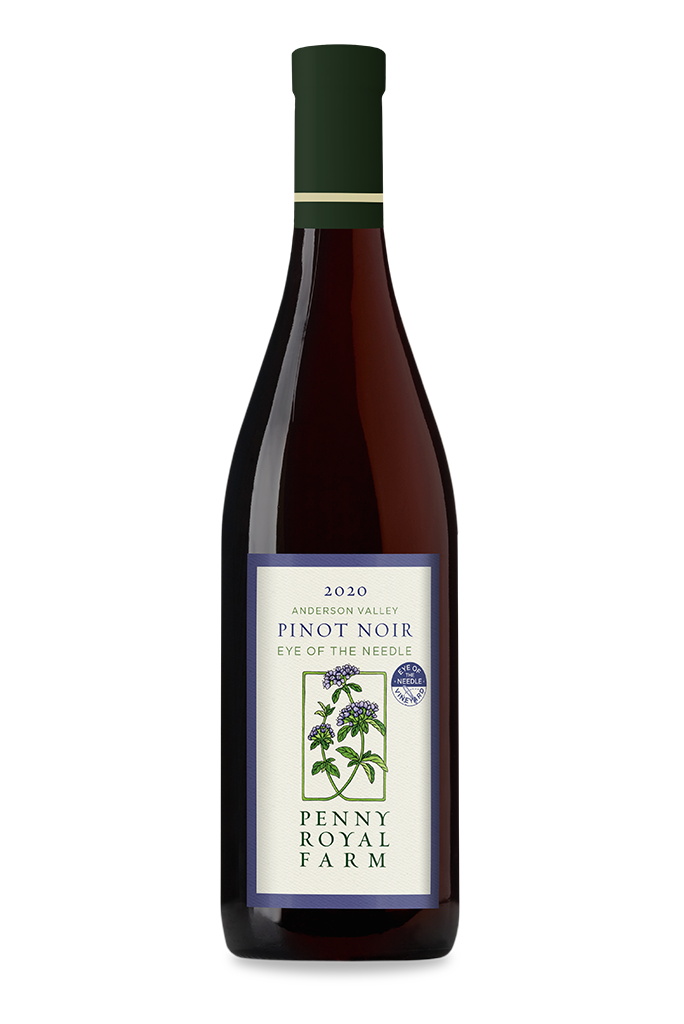 2020 Pinot Noir, Eye of the Needle Vineyard, Anderson Valley
MEMBER-ONLY RELEASE
This limited-production wine is reserved for our Vine to Table members who receive priority on purchase and discounts on all new wines! Not a member yet? Join us!
Tasting back to the 2020 vintage, we are reminded of the trials and tribulations of drought, heatwaves, and neighboring wildfires on our vineyards – just like a body's development is written by its life's story, a vine's fruit also tells its history. Picked from the heart of our finest block of Clone 115, the resulting wine is reminiscent of a summer season with long days of picking and canning sun-ripened blackberries, weekend BBQs with rosemary-skewered meats, of coastal fog that didn't return some evenings, so we'd cool'n'comfort ourselves with caramel sundaes. Nostalgic sips aside, this satiny Pinot Noir wine is a testament to Anderson Valley's unique growing region with windy yet sheltered terrains – like the Eye of the Needle – and the soothing coastal influence that has been fruit-saving as well as history-making for us vintners.
DETAILS
750 ml
100% Estate Grown Pinot Noir, Clone 115 (100%)
Aged 18 mos in 60 gal French Oak Barrels
Cheese Pairing: Velvet Sister
Case Production: 175
Alcohol: 13.9%
TA: 5.8
pH: 3.74
Recent Awards: 2023 Press Democrat North Coast Wine Challenge, Double Gold