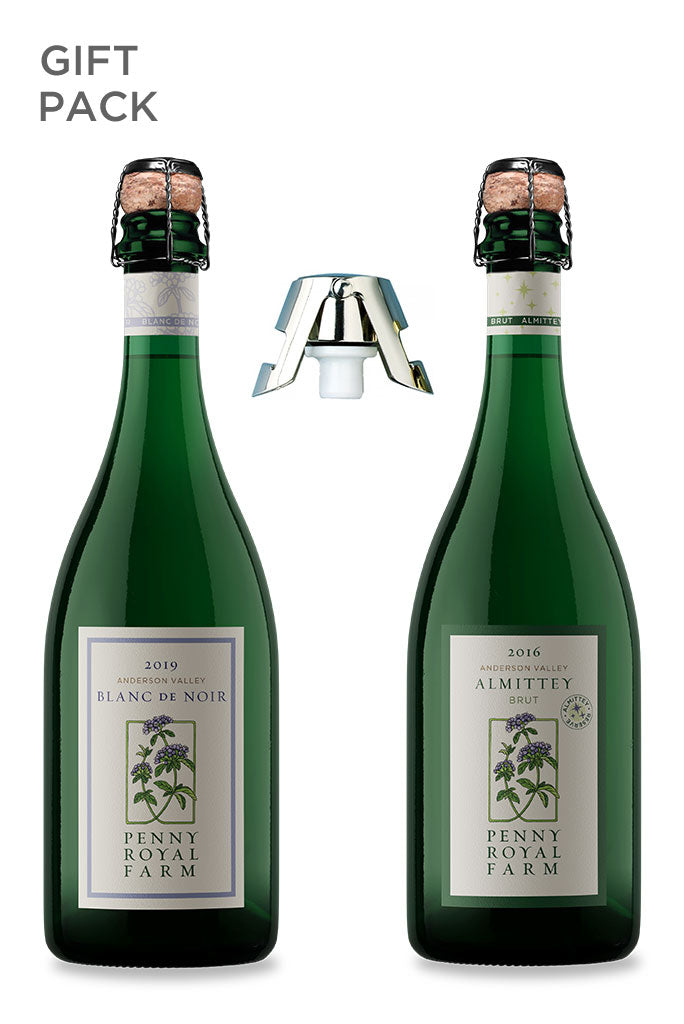 Gift Pack: Holiday Sparklers
Sale price
$150.00
Regular price
$165.00
MEMBERS SAVE MORE

Our Vine to Table members receive priority on purchase and a 15% discount on all new wines and packs! Not a member yet? Join us!
There's no better way to celebrate the holidays than with a bottle of bubbles! This gift set includes our estate's finest sparklers and a Pennyroyal Farm engraved wine accessory.
PACK DETAILS
This limited pack includes:
2019 Blanc de Noir, Anderson Valley (2 bottles): Crisp flavors of apple meringue, and aromas of fresh-baked graham cracker; 100% Pinot Noir sparkler.
2016 Almittey Brut, Anderson Valley (1 bottle): Hazelnut shortbread, apple, and frangipane mingled with zesty fresh ginger; 60% Pinot Noir, 40% Chardonnay reserve sparkler.
Quick Seal™  Champagne Stopper: 1 3/8" diameter, 3 1/2" height; Gold Plated Stainless Steel and engraved on top with Pennyroyal Farm design.